Introduction
Xena is an ultra-compact mixer that is free to use in SoundcheckPro. It consists of 6 channels with variations of input types.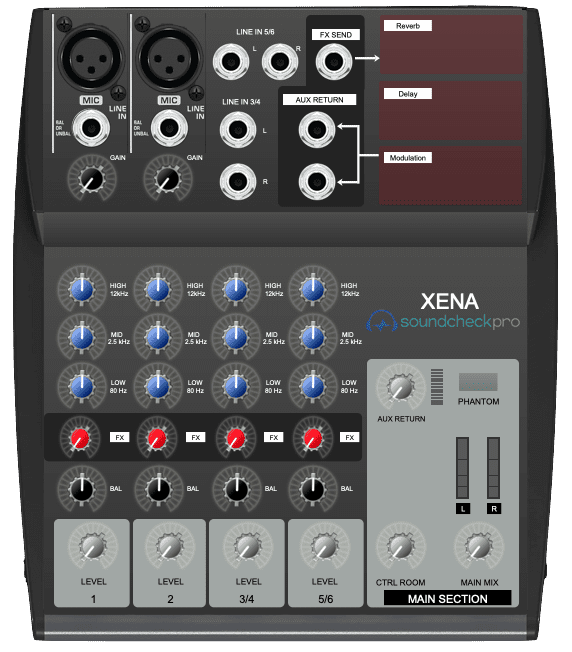 Overview
Despite its small size, the Xena mixer offers many of the same functions seen on larger traditional mixers but, in less quantity. It is designed to be portable, yet capable and easy to use.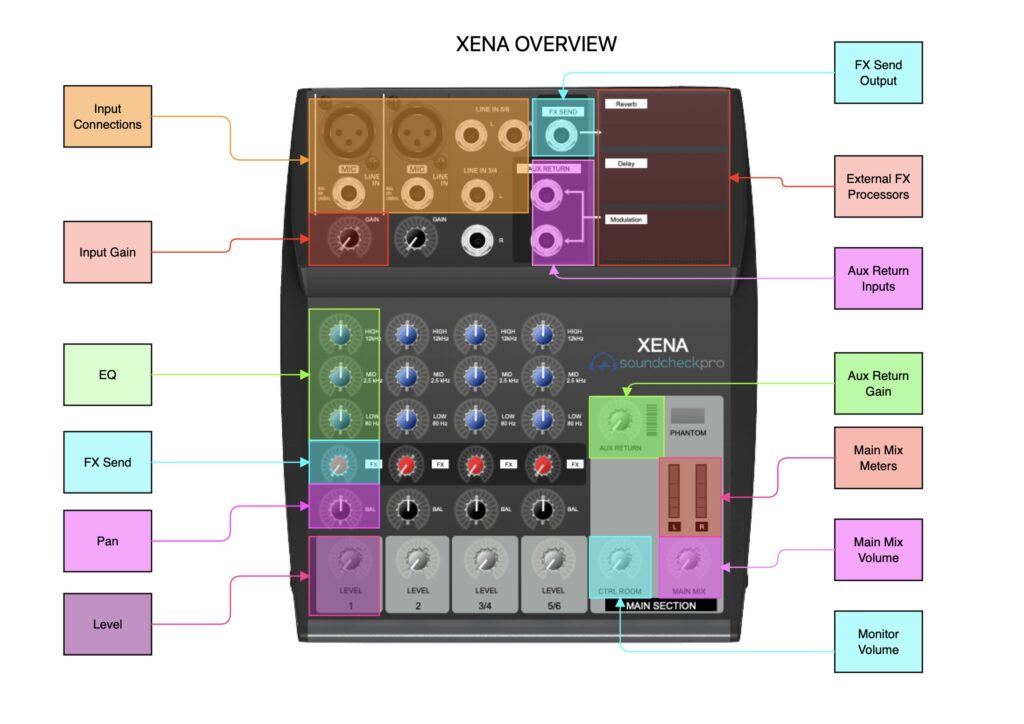 Features
Channels: 2 mono & 2 stereo channels (4 mono)

Input Gain
3-Band EQ (hi, mid, low gain)
FX Send
Pan
Level knob

Master Controls

Main Mix (master volume)
CTRL Room (monitor level)
FX Return gain

Connectors: Mic XLR , 1/4 inch line
Phantom Power: Universal switch, channels 1 & 2
Effects: Reverb, delay & modulation
Channels
The Xena mixer offers 2 mono and 2 stereo channels. Using the stereo channels as 2 mono inputs, it's possible to achieve 6 channels of audio. The stereo knob would then be controlling the 2 mono input levels simultaneously.
Connectors
The mono channels offer the option of either an XLR mic input or a 1/4 inch line input.
The stereo channels only use 1/4 inch line inputs.
Input Gain
The input gain knob controls the level of signal entering the channel. This knob is only found on the mono channels. The behavior of this knob is dependent on the input connection being used.
Equalizer (EQ)
Controls the frequency content of a signal. Xena offers a 3-band EQ for the hi, mid and low frequency ranges. Only gain controls are offered with the frequencies of the 3 bands remaining fixed.
Pan
Position the channels in the main stereo mix. Creates depth and dimension creating a sense of a 3D listening experience.
Level
Controls the output level of channel signals. Similar to the input gain, only at the opposite end. After the level control the signal then feeds the main stereo mix.
FX Sends
Routes a duplicate of the signal to a series of effects via the designated outputs of the mixer. The signal then comes back at the FX Return inputs.
Master Section
External Processors
The Xena doesn't have effects built into the mixer itself. Using external processors allows you to incorporate special effects via connectors on the mixer to create more depth.
FX Returns
Controls the signal levels coming back from the external audio processors.
Main Mix
Controls the signal levels of main stereo mix before exiting the main outputs of the mixer.
CTRL Room
Listen to the main stereo mix separate from the main mix outputs.
Phantom Power
Supplies the 2 mono XLR inputs with additional 48v of power that is required for certain microphones.
LED Indicators
Visualize the level of the signal leaving the main mix outputs of the mixer.
Mixer Diagram