Introduction
The SteeV88 is the bridging-point between split & inline design mixing consoles.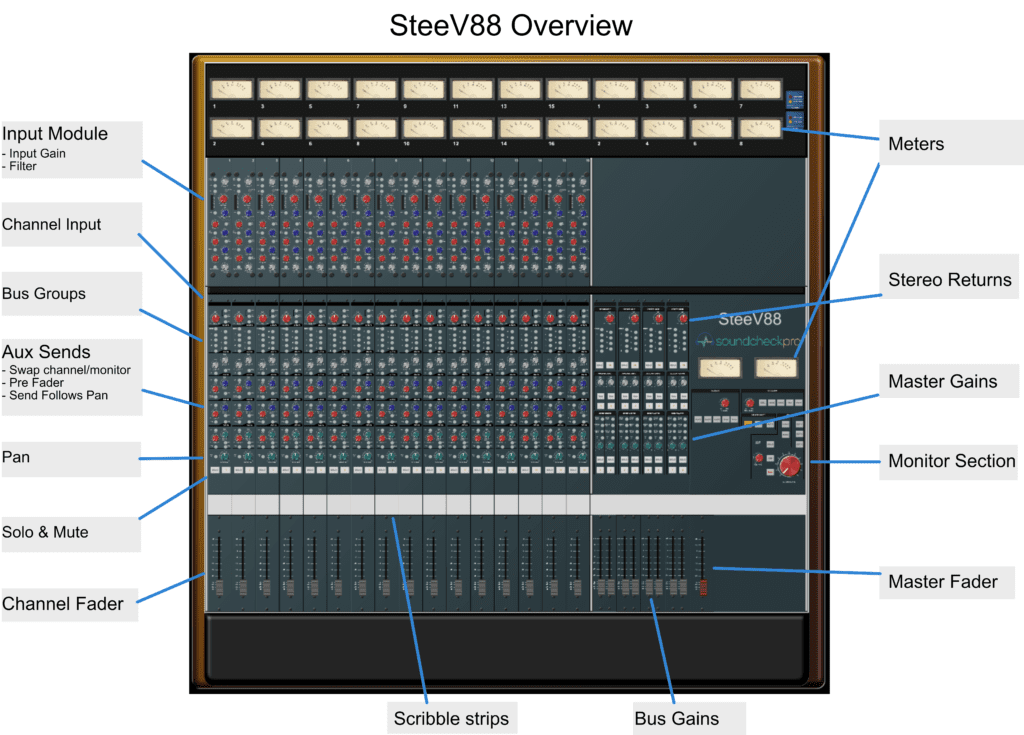 Channel Strip
Input Module
The input module of the SteeV88 console consists of inputs for mic or line and an EQ.
Mic/Line Inputs
The inputs can be either Mic or Line determined by a toggle button. The default is MIC. When engaged it module uses a line level input signal.
The mic-pre amplifies the signal from 0-60db.
The LINE option boosts or reduces from -20db to +40db
Phase, Phantom Power and Pad
The Hi Pass Filter can adjust in frequency
The "To EQ" button sends the input through the EQ
Equalizer
The SteeV88 features a 3 band EQ with each band having a gain attenuation knob. The Mid and Low filters have adjustable frequency knobs. The Hi filter has 2 assignable frequencies using the button.

Channel Module
The channel module is mainly for balancing and routing of signals Besides for the gain stages, there are no processors on the SteeV88 channel module.
Input Select
Input Gain Trim
Group Matrix (Stereo Feeds Main Mix)
Aux & Cue Sends
Input Section
Can receive 3 inputs. Line, Bus or Tape. The trim knob controls the levels of the selected input.
Group Matrix
Assign a channel to the main stereo mix or to any of 8 subgroups.
Aux Sends
There are 8 aux sends with functions grouped in pairs of 2. Some of the auxes offer different functions such as pre, pan, send follows pan (SFP) and more.

Fader Section
A mostly standard fader section with a fader, solo/mute and pan. The unique feature of this mixer is the ability to disengage the pan using a toggle button.

Master Section
Upper Master Section
Contains all the major destinations of the mixer.
Aux Masters
Subgroups
Stereo Returns
Monitoring Section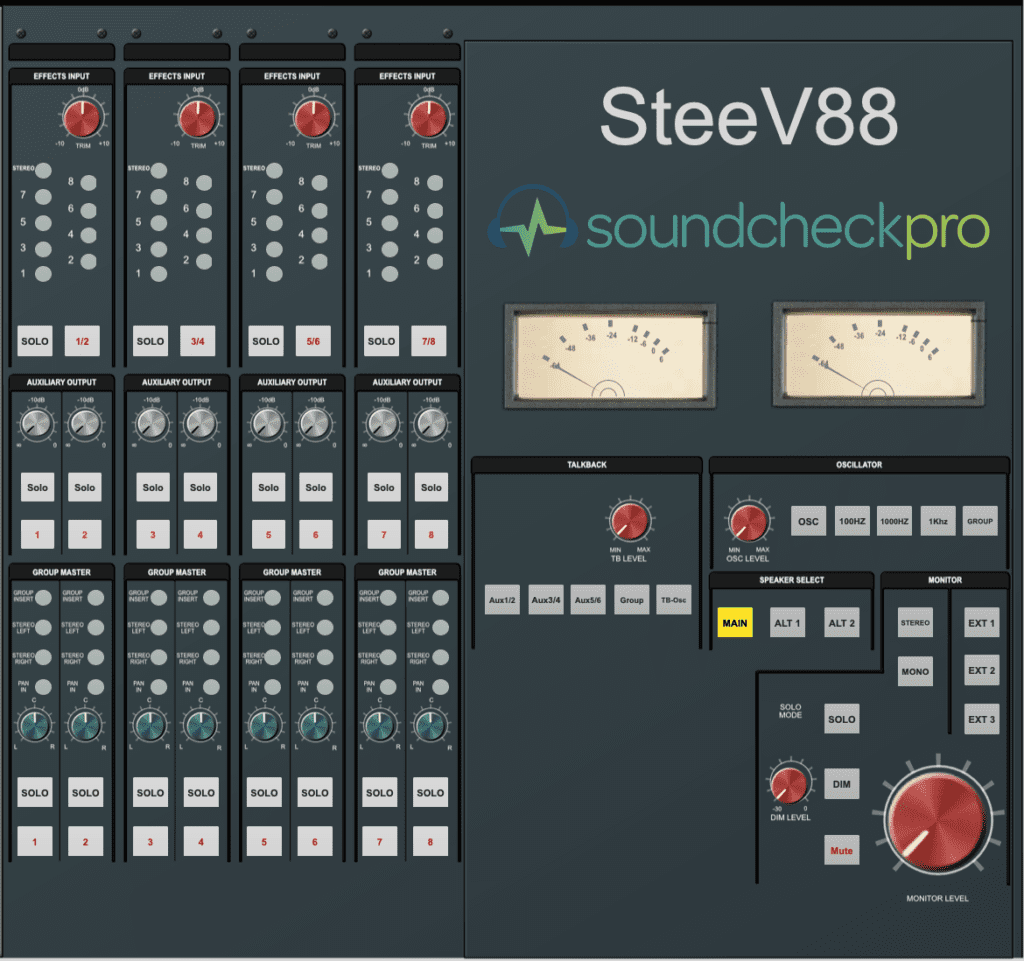 Subgroups and Master Faders
Subgroup faders
Master Fader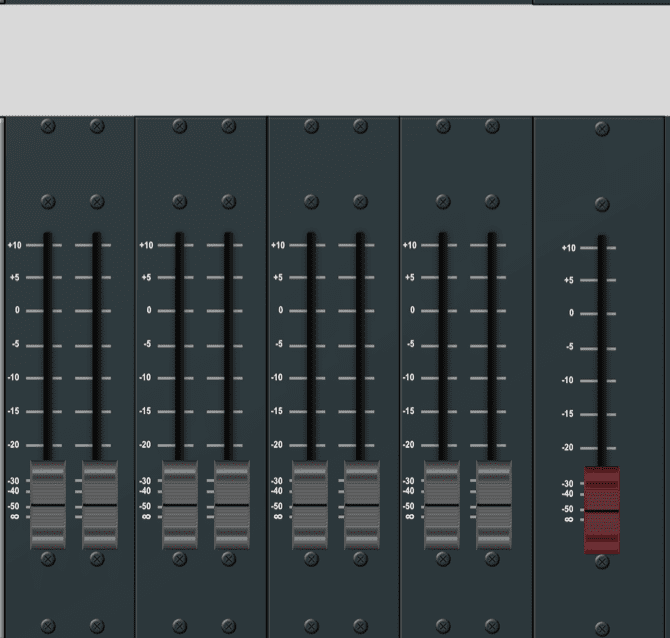 Additional Specs
| | |
| --- | --- |
| Function | Specs , Name |
| Mic Input Gain | Mic Input Gain |
| Line Input Gain | Line Input Trim, Ch Input Trim |
| Input Section Toggles | Mic/Line, Phantom Power, Phase, HPF, To-EQ, ch-Phase, ch-LineBus, ch-Tape |
| EQ Knobs | HF-Gain, HMF-Freq, HMF-Gain, MF-Gain, LF-Gain |
| EQ Toggles | EQ-In, HF-Freq, HF-Peak, Mid-HiQ, LF-Peak |
| Inserts | (configured via patchbay) |
| Pan | Pan, Pan-In |
| Channel Aux / Send | *8 sends* Send Level, Send Enable, Pre, Aux 5-6 To Groups, Send Follows Pan (SFP), Pan |
| Channel Fader Section | Fader, Solo, Mute |
| Channel Sub-Groups / Track-Bus | 8 Groups , Stereo |
| Master AuxSend Levels | Send Level, Solo Mute |
| Master Sub Groups | Group Insert, Stereo Left, Stereo Right, Pan, Pan In, Solo, Mute |
| Master Monitor Section | Speaker Select, Dim Level, Dim Toggle, |
| Master Section FX Processing | x |
| Stereo Return | Input Trim, 8 Groups, Stereo Mix, Solo, Mute |
| | |