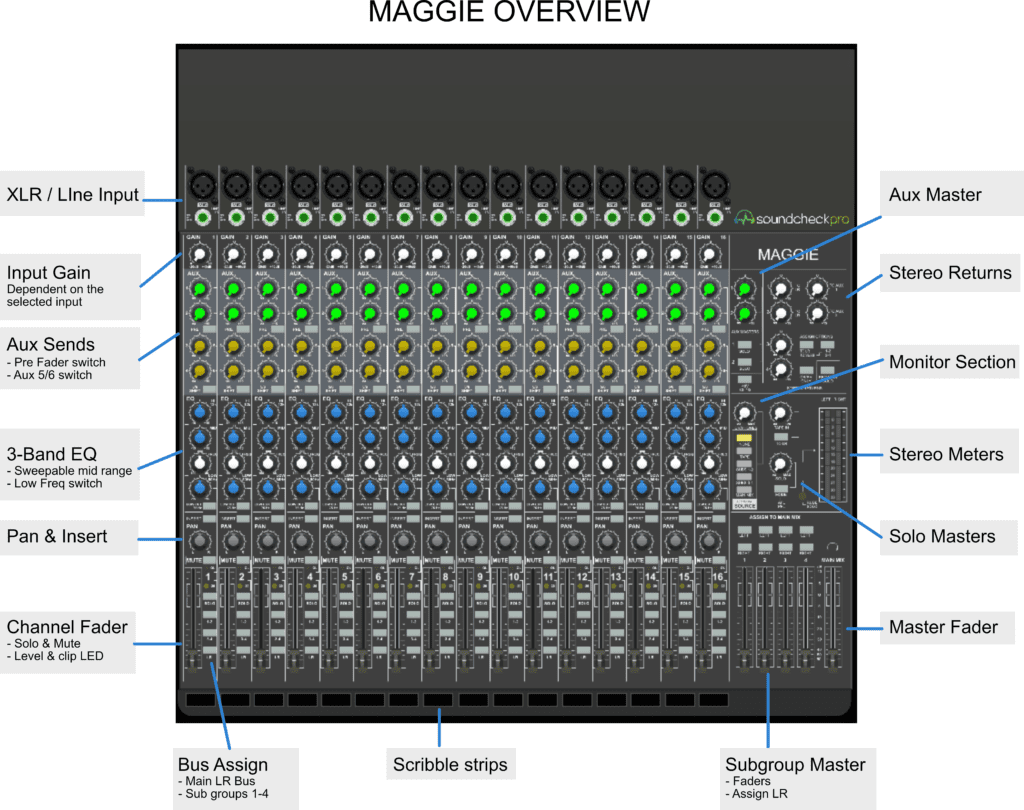 Introduction
Maggie is a split-design mixer that contains majority of the destinations found in signal flow. Inspired by one of the most common-style mixers seen in small home studios, event halls and most importantly education! When you learn Maggie, you are learning with the most used workflow in education practices.
Below is a Maggie overview with specs and parameters.
Channel Strip
Gain
values are determined by the INPUT MODULE selected above the channel strip.
The MIC option uses a mic-pre to amplify the signal from 0-60db.
The LINE option boosts or reduces from -20db to +40db.
The Aux
Has 6 auxes total on the mixer but the section has 4 knobs on the channel strip. However, the knobs for auxes 3 & 4 could be reconfigured to control the levels of 5 & 6 using the SHIFT button.
By default the auxes are POST fader. For Aux 1 & 2 they can be reconfigured to use PRE FADER.
EQ
Has 3 bands (Hi,Mid & Low). The Hi & Lo bands can boost or reduce a fixed frequency while the Mid band is more flexible that it can sweep frequencies.
Inserts
Not always found as a switch with this category of mixers. At times inserts are routed at the instant a cable in plugged into the insert port. An insert switch is found on the Maggie for ease of use and bypassing insert chains.
Fader Section
Pan
Mute / Solo
Main LR Bus
Subgroups 1-4

Master Section
Described from top to bottom
Aux Masters
Controls the overall gain of all the channels that send to a signal to auxes 1 & 2 with the ability to solo the sends.
The other auxes exit the mixer without controls.
Phantom Power
Assign 48 volts to microphones on channels 1 & 2.
Stereo Returns
4 each of the stereo returns there are two signals (left & right). There are several routing options for each of the returns.
Assign options to LR or to Subs 1-2, 3-4
Route to Phones only
Returns SOLO
Monitor Sections
Monitor Source – Main Mix, Subs 1-2, Subs 3-4, Tape, None
Solo – Gain, Mode (AFL , PFL), Rude Solo (LED)
Meter
Subgroups & Master Fader
Each of the 4 subgroups has a fader and options to assign the fader to the left and/or right signal of the MAIN MIX bus.
The master fader feeds the output of the mixer.
Specs
Channel Count: 4 & 16
| | |
| --- | --- |
| Function | |
| Mic Input Gain | Input Gain |
| Line Input Gain | x |
| Input Section Toggles | x |
| EQ Knobs | Hi-Gain, Mid-Gain, Mid-Freq, Low-Gain |
| EQ Toggles | Low-Cut |
| Inserts | Insert-Toggle |
| Pan | Pan |
| Channel Aux / Send | *6 Sends* Send Level, Pre-Fader, Shift |
| Channel Fader Section | Channel-Fader, Solo, Mute, LR |
| Channel Sub-Groups / Track-Bus | Bus 1-2, Bus 3-4, |
| Master AuxSend Levels | Aux1-Master, Aux2-Master, Aux1 Solo, Aux 2 Solo |
| Master Sub Groups | *4 Sub groups* Sub-%-Master, Sub-&-Master-L, Sub-&-Master-R |
| Master Monitor Section | Master Fader, Monitor Source Select, ControlRoom/Phone Volume, Solo Level, Solo Mode (AFL/PFL) |
| Master Section FX Processing | x |
| Stereo Return | *4 Returns* Return-%-Level, ToLR/ToSubs, Assign 1-2/3-4 To Aux 1, To Aux 2, Returns Solo |
| | |