A fresh SoundcheckPro update has just been released. It includes a wide variety of changes, the major of which are detailed below. This is a free update available in-app. However, the features listed here require either a semester or yearly subscription. Upgrade your account here.
New Console Introduced ~ SteeV88
That's right! A new desk is available to all subscribed users. The "SteeV88" is a modern classic designed in tribute to 'the maker' for all of his glorious creations to the birth of the sonic universe. SteeV88 can be used as 16 channels and 4 channels, which is our standard for easy demonstrations of all consoles.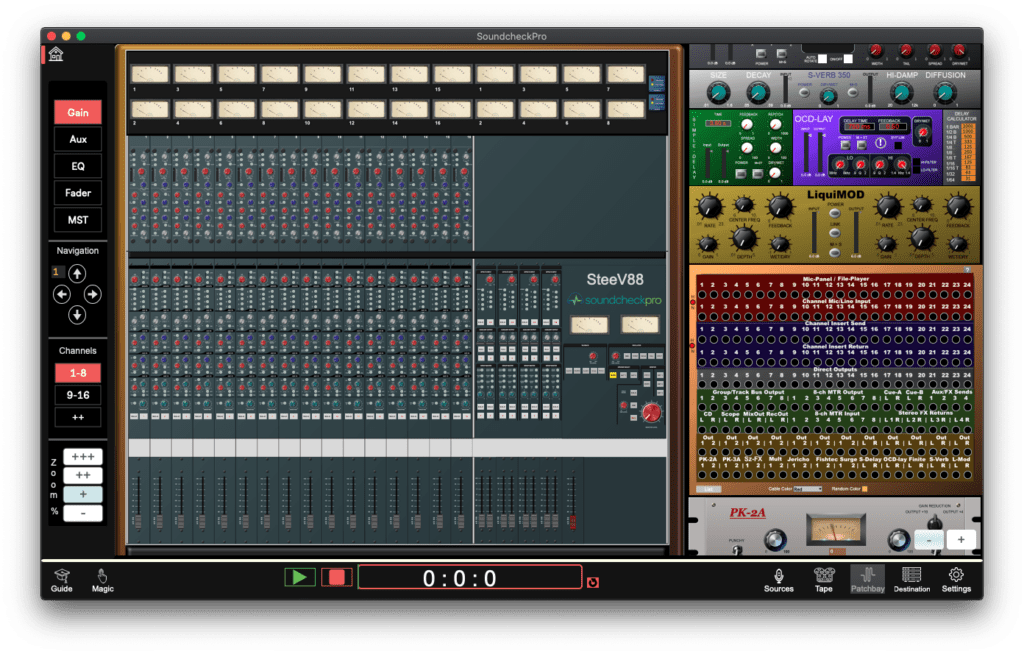 Highlights:
Penthouse SWEET 🙂 – The core channel modules of the V88 are line inputs. MicPre/EQ modules have been added to the upper rack (the penthouse) serving as the first input stage of the channels. Note, there still is a secondary gain stage on the channel strip in the same signal path. The penthouse could be modular. If you're not using an EQ on one channel and would like to use a second EQ on another, it's as simple as routing to & from the penthouse module. You must see it in action!


"vBUS" – the SteeV series offers it's own of internal bussing system between the penthouse modules and the mono channel strip below them. Instead of patching the output of a penthouse into a mono channel input, there is a dedicated connection that can be engaged. The "vBus" switch will feed the output of the MicPre/EQ module to the input of the channel below. Regardless of patchbay routing. Experiment to make sense of it.


"Send Follows Pan" (SFP) – Some of the aux sections have their own ability to pan aux signals or use the pan from the channel fader to control aux panning. This is the first console in SoundcheckPro to offer such flexibilities for aux/cue mixes.


Explore to discover more!
New & Improved Maggie Interface
The MAGGIE console was first introduced in 2017! As our development pipeline has drastically improved, it was no-brainer to revisit one of the original mixers for a fresh polish. The entire Maggie frame has been redesigned with clearer labelling of parameters and radial indicators.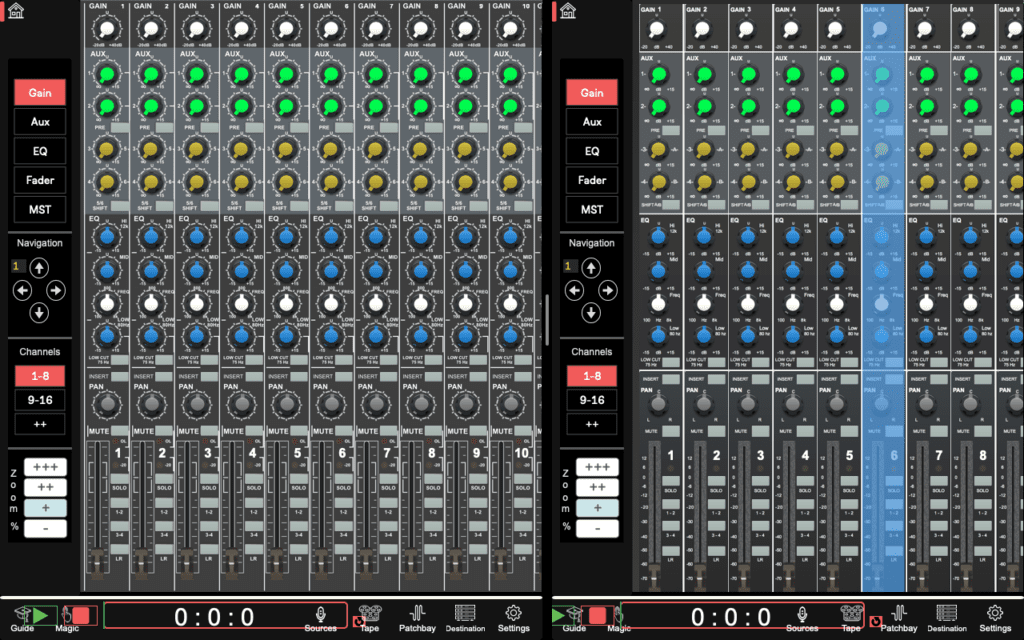 AFL Toggles on Master Gains (AWX Console)
"After Fader Listen" offers the ability to easily monitor the signal reaching the Bus & Aux Master Gains before being sent to the patchbay. In the past we encouraged users to monitor these paths by other means in signal flow. Now it is readily available where it would expected.
Start Using SoundcheckPro